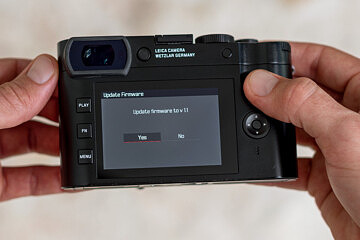 Today, Leica has released the first firmware update, version 1.1, for the recently introduced Leica Q2. The most significant change addresses a bug that prevented DNG files captured in continuous super speed from being read in Adobe Camera RAW or Lightroom. Here's the full breakdown of improvements in Q2 firmware version 1.1:
DNG files recorded in 'Continuous Super Speed' mode are now readable in Adobe Camera RAW and Adobe Photoshop Lightroom software.
Burst Shooting + attached flash:
In 'Burst Shooting Mode' (H/M/L) the attached flash is now triggered more than once (depending on the power of the flash).
Download of images via Leica FOTOS App:
Stabilized image download process via Leica FOTOS App in combination with the 'Remote Wake-up' setting as well as display of aperture values after wake up.
Interval shooting in Drive Mode:
In 'JPG only' setting, images can now be taken with 1 second interval continuously without losing frames. Performance with DNG + JPG has also been improved. Please Note: Due to general SD-card writing time, it is advised to use an interval time longer than 2 seconds in order to ensure all images (DNG + JPG) will be saved.
For other articles on this blog please click on
Blog Archive
in the column to the right
_____________________________________________________________________
Buy vintage Leica cameras from

America's premier Leica specialist










Click on image to enlarge








Please make payment via PayPal to GMP Photography

Click on image to enlarge

Please make payment via PayPal to GMP Photography

Click on image to enlarge

Please make payment via PayPal to GMP Photography