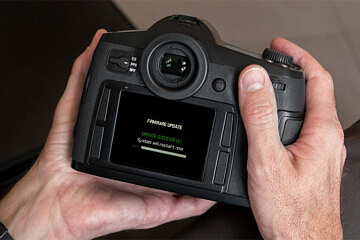 Right on the heels of the initial batch Leica S3 cameras being shipped out of Wetzlar, Leica has already issued a firmware update, version 1.1. Mainly, the new firmware improves image quality output, especially at higher ISO settings, as well as fixing a few small bugs. Obviously, this firmware is strictly for the newly-introduced Leica S3, not any previous model Leica S camera.
Improvements and Bug Fixes
Performance
General image quality and white balance improvements at high ISO settings and with long time exposures.
Bug fixes
ISO values 25000 and 50000 are now currently displayed in play mode.

Auto-ISO with Program mode now works properly.

Correction: ISO range for live view mode.
https://youtu.be/lSXeDRZbSWU
For other articles on this blog please click on

Blog Archive

in the column to the right




To comment or to read comments please scroll past the ads below.




All ads present items of interest to Leica owners.




_______________________________________________________________________
Buy vintage Leica cameras from

America's premier Leica specialist






Click on image to enlarge




Please make payment via PayPal to GMP Photography

Click on image to enlarge

Please make payment via PayPal to GMP Photography

Click on image to enlarge

Please make payment via PayPal to GMP Photography