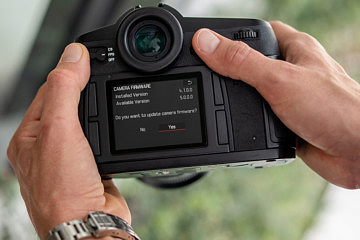 Today, Leica has introduced a major new firmware update for the S (Typ 007) medium format digital SLR camera: firmware 5.0.0.0. In addition to bringing compatibility via WiFi with the new Leica FOTOS iOS & Android app (learn more about that here), firmware 5.0.0.0 adds a number of new features and bug fixes.
Read on for a detailed breakdown of the changes and improvements:
Improved Video Operation Start/Stop Video recording via Leica Cable Release S (order no. 16029) when Video Live View is active
This one is pretty simple, and nice to have. When the Leica S-Cable Release is attached to your camera, it can also be used to start and stop video recording in addition to firing the shutter for still photos.
Additional Photo Mask (3:1) for better composing. Supported by Adobe Lightroom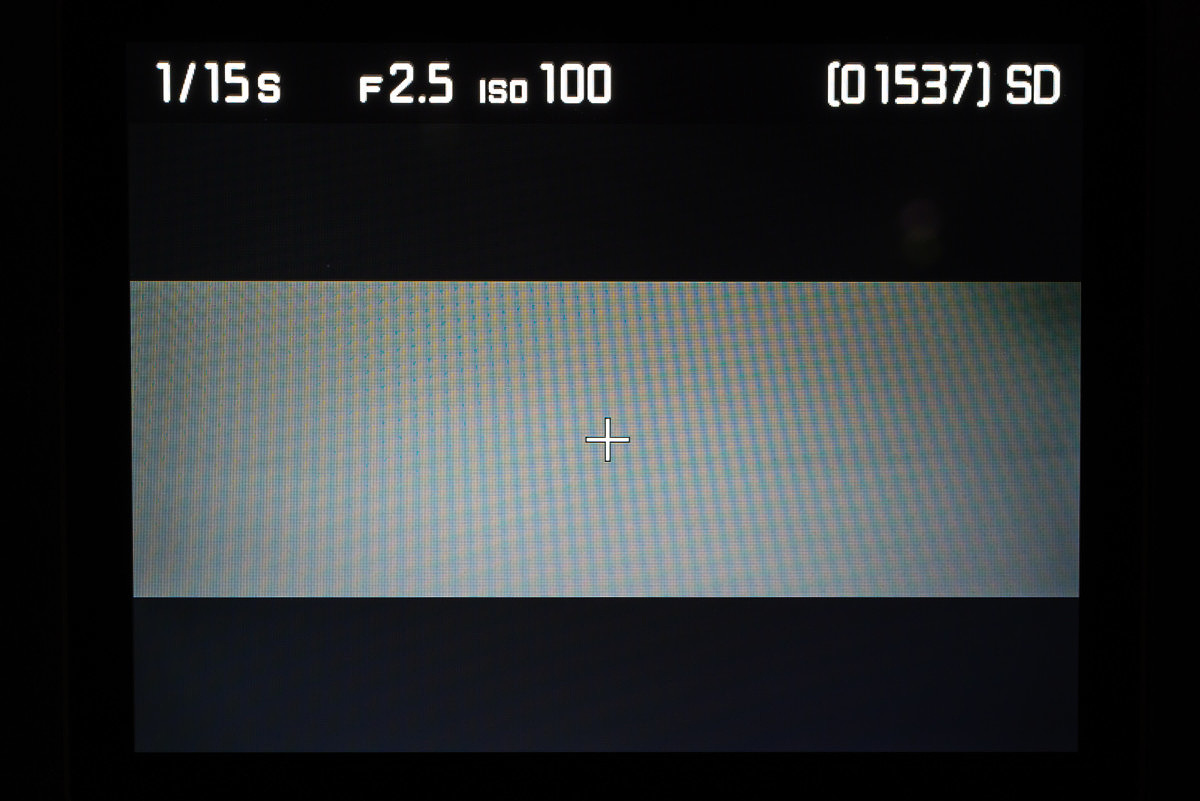 The 3:1 aspect ratio is clearly visible in live view and playback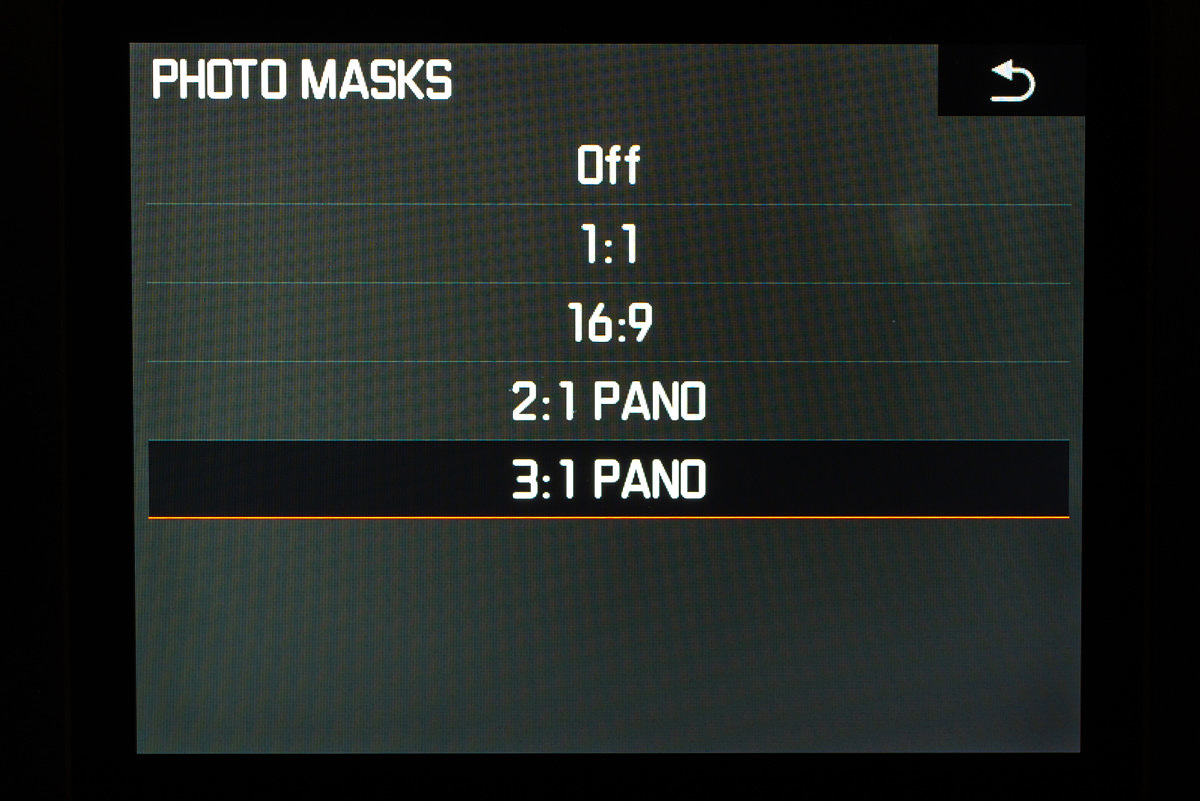 The Photo Masks menu is where you choose the new 3:1 Pano setting
If you are looking to shoot a REALLY wide aspect ratio, now you can. Personally I prefer to do this kind of cropping in post production, but depending on your needs this may be a nice feature to have.
Maximum Exposure Time extended to 125 seconds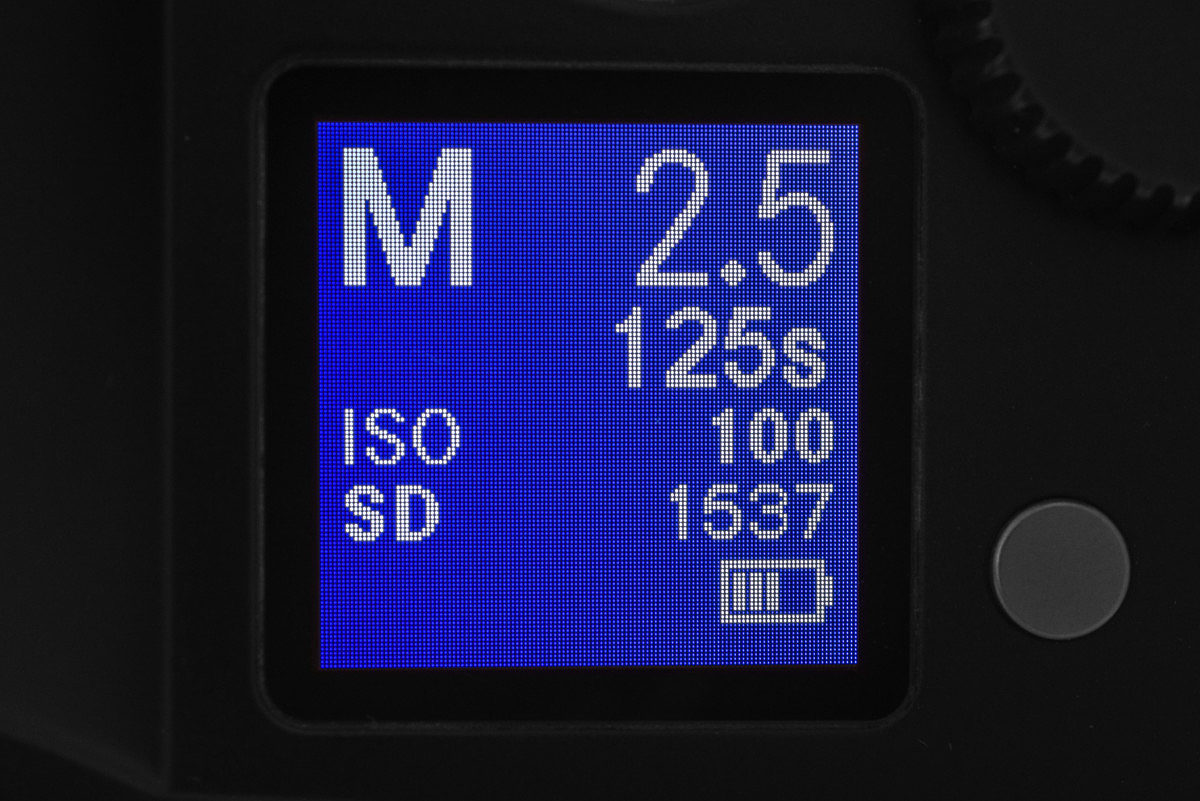 The top OLED showing 125 seconds at ISO100
Now we are getting into the good stuff! Previously, at ISO 100 the longest exposure available on the S007 was 60 seconds. Firmware 5.0.0.0 increases that to 125 seconds. Do keep in mind that as you increase ISO, your access to these longer speeds decreases. Here's a handy chart that breaks it down:
Center Marking for Live View Autofocus field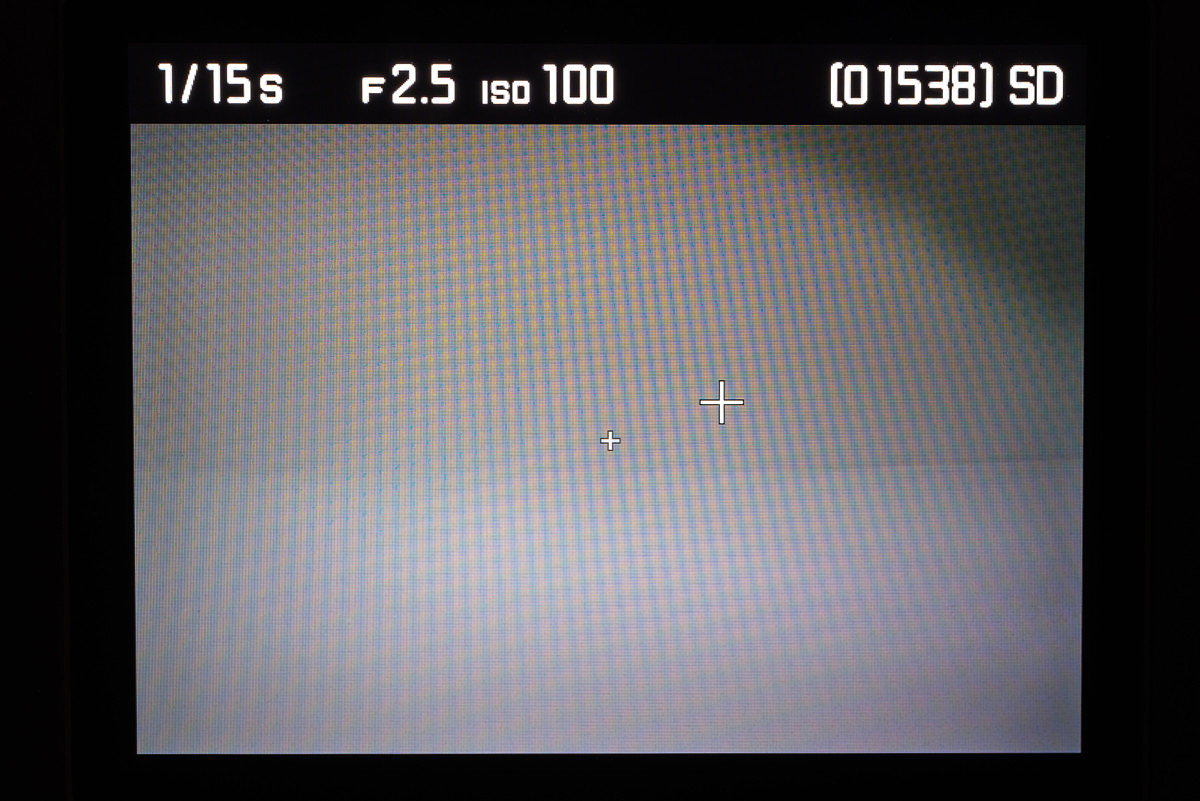 The smaller crosshair in the center is new. It stays in the center. You can see to the upper right the larger crosshair that represents your autofocus point which you can move around freely.
When working in live view, the autofocus spot for the S007 is a small white crosshair. When you start moving it around the frame, it can be tricky to try and re-position it dead center again. An even smaller crosshair is added in the new firmware which is fixed to the center, making it easy to bring your focus point back there.
Customize Controls for Front Wheel Direction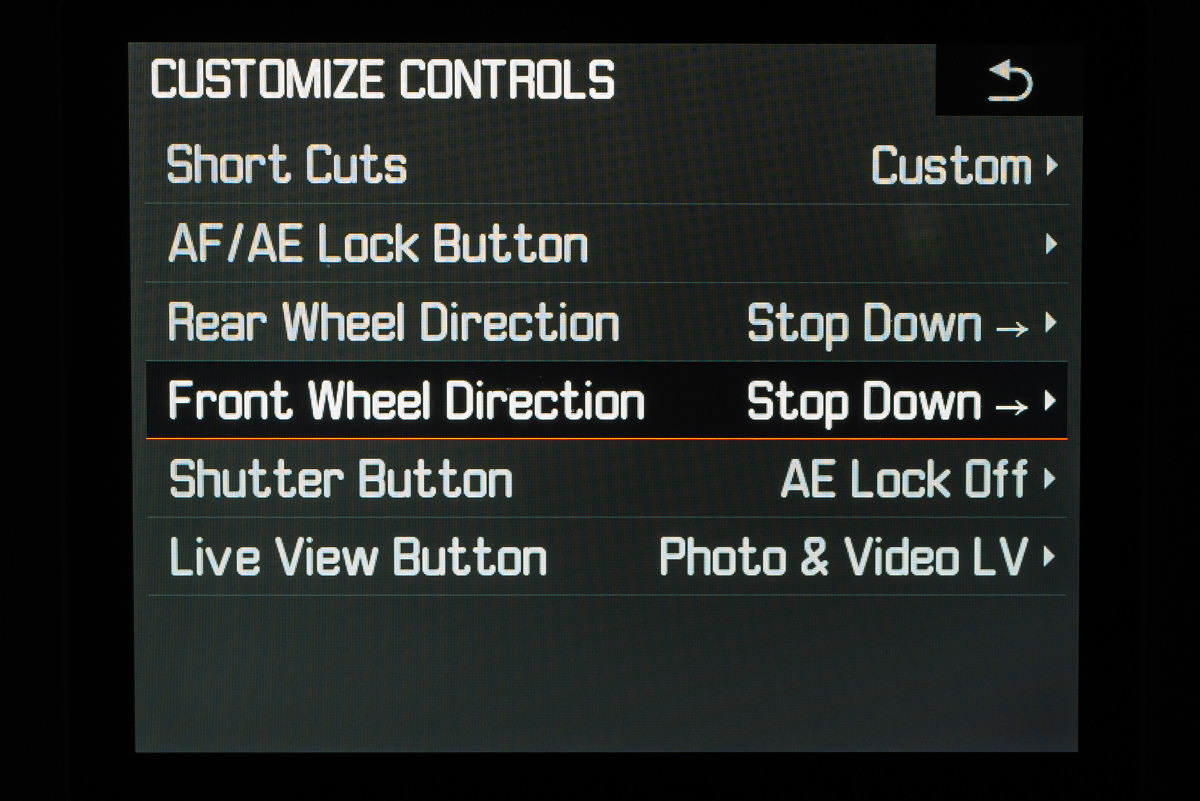 Now you can reverse the direction of the top dial in the Customize Controls menu.
The "front wheel" in this case is the top dial on the camera, primarily used for adjusting your shutter speed. This new control allows you to reverse the direction of that dial, should you so choose.
In addition to the above listed new features, a few bug fixes are also listed:
Bug fix: GPS Tag was sometimes corrupt within a picture sequence

Bug fix: under some circumstances the mirror got stuck after a series of 200 to 400 exposures

Bug fix: under some circumstances the camera produced color patterns with the Leica Vario-Elmar-S 3.5-5.6 / 30-90mm ASPH
For complete information go here: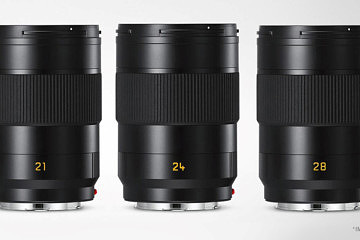 LEICA ADDS THREE MORE SL PRIME LENSES TO ROADMAP
At the press event today, Leica announced three new SL lenses. Slated to be released in 2020, these new optics will add fast, wide-angle primes to the system. With focal lengths of 21, 24 and 28mm, all lenses feature an f/2 maximum aperture. Also, while unusual for wide angles, all three designs will be APO lenses, or Apochromatically corrected. Usually reserved for 50mm and longer, APO designations usually indicate the highest level of optical quality.
Additionally, and not really a surprise, all three rely on aspherical technology, or ASPH in Leica's naming, to achieve maximum performance. Like all the Summicron-SL lenses, barrel size is consistent across the entire range, with a 67mm front filter thread. So, these wides will have the same measurements as the 75 and 90 APO-Summicron-SL.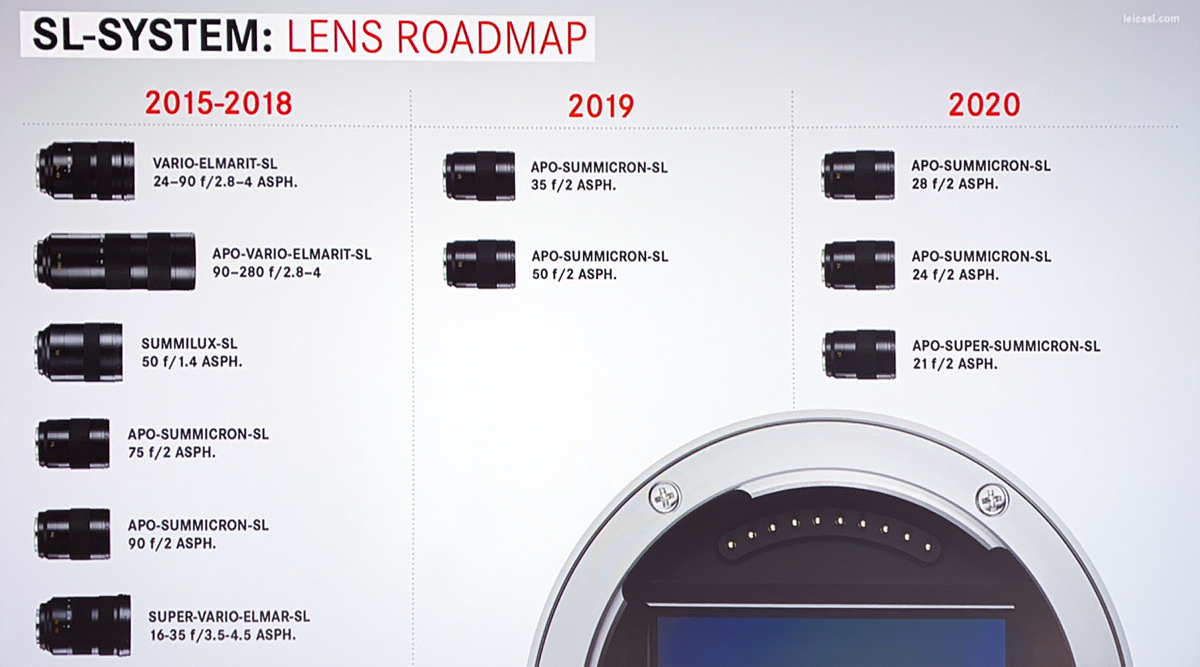 If the other lenses in the SL line-up are any indication, this new range of wide angle Summicrons could set the standard for these focal lengths. I'm looking forward to discussing the upcoming optics tomorrow at the show. Stay tuned for more info.
For more information go here:
For other articles on this blog please click on

Blog Archive

in the column to the right




To comment or to read comments please scroll past the ads below.




All ads present items of interest to Leica owners.







__________________________________________________________________________



Buy vintage Leica cameras from

America's premier Leica specialist









Click on image to enlarge

Please make payment via PayPal to GMP Photography

Click on image to enlarge

Please make payment via PayPal to GMP Photography

Click on image to enlarge

Please make payment via PayPal to GMP Photography